We are thrilled to have you on our site. If you enjoy the post you have just found kindly Share it with friends.
We had a wonderful brunch and stay at the Al Habtoor Polo Resort. My wife and I arrived on Thursday, and during that Holidays in Dubai, most of the time we spent in the pool of the resort. Equestrian-inspired Al Habtoor Polo Resort is located in Dubai Land, about half an hour's drive from the airport.
Read also: Hotel review: Meliá Desert Palm Dubai Resort & Hotel
We haven't stayed in the UAE for a long time. The current situation has indeed challenged many of us, and the country's businesses are adapting to the security measures imposed by the government. However, we are delighted that Dubai is open, so we can still travel in and out of the emirate in accordance with health guidelines.
check in hotel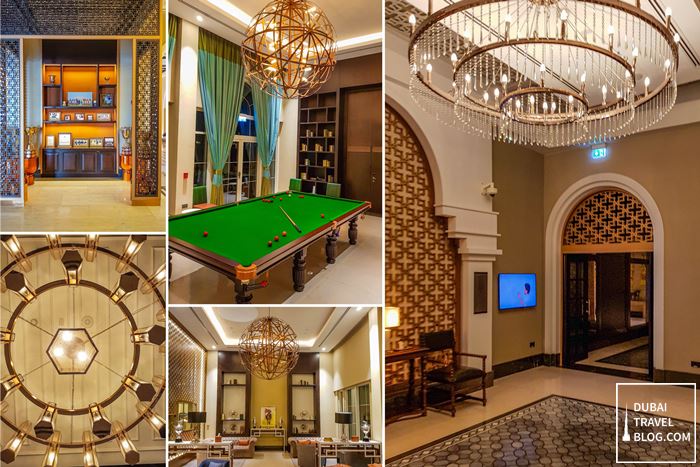 elegance
Experience of staying at Al Habtoor Polo Resort in Dubai
The brunch and accommodation package we booked was for a couple's overnight stay with brunch and breakfast, all for AED 699. This was already a very good deal for us, especially when the brunch costs AED 295 per person.
Check-in was quick and we made it to our room in no time. The building has only 3 floors.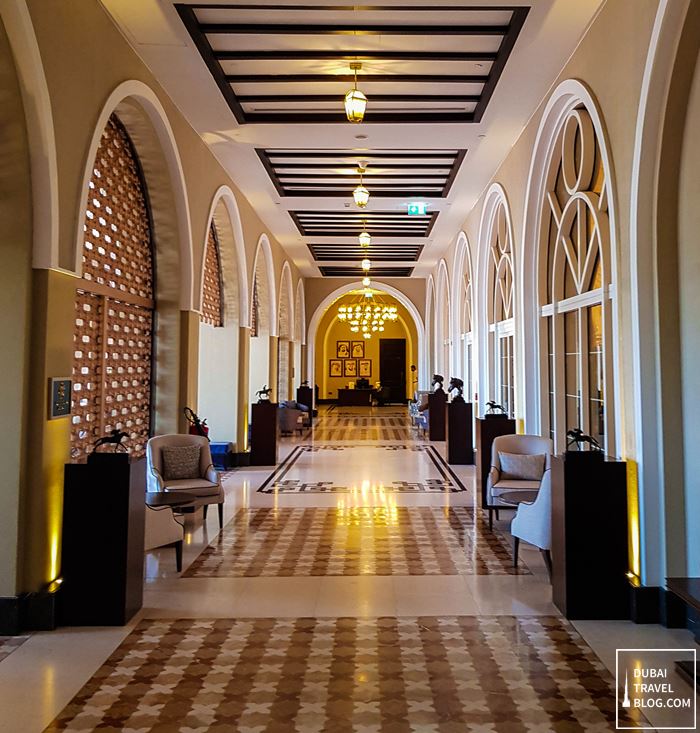 Resort Al Habtoor Polo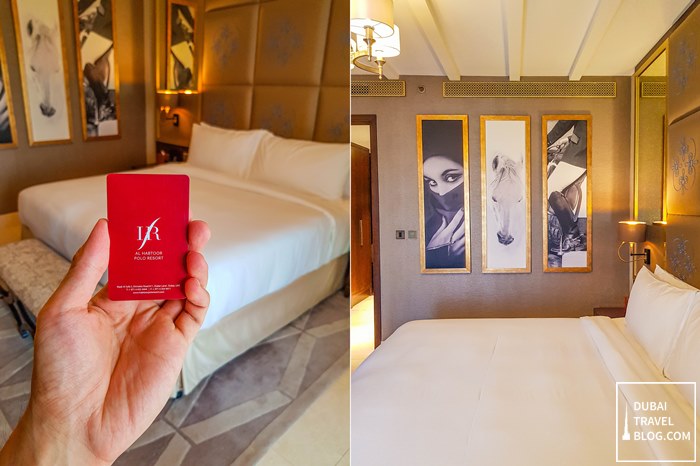 check in at Al Habtoor Polo Resort
Sculptures and paintings of horses
The resort's structure is surrounded by lush, spacious green lawns and features a sophisticated and timeless Andalusian design.
One thing you'll also notice is the amount of horse accents in the form of paintings and sculptures that make it quite funny as you stroll through its corridors. After all, the resort is also a resort and polo club.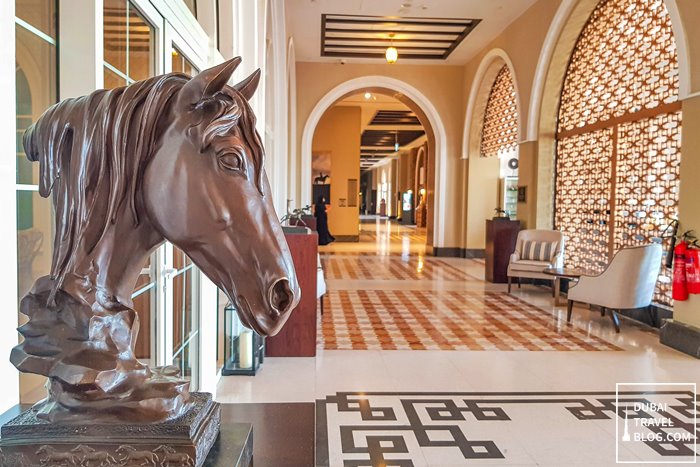 hotel lobby
equestrian statues and paintings in the resort
Deluxe Room with Polo View
Our room was a Deluxe room with a balcony overlooking the Polo garden. It features a comfortable king-size bed, flat-screen TV, high-tech lighting and air conditioning controls, a minibar and more.
The area of ​​37 square meters is a great place to relax. Plus points for the sofa bench, reading chair and comfortable balcony seats.
comfortable double bed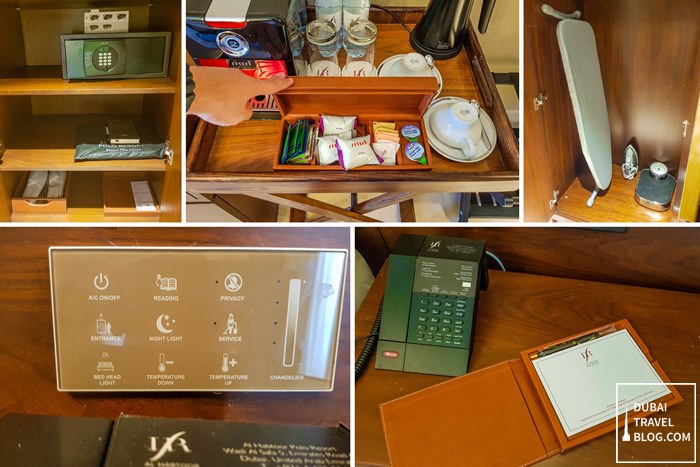 convenience (high-tech control)
Bathroom
The bathroom is very chic and elegant, with marble tiles around the bath, a walk-in shower, his and her sink, and a separate toilet and bidet.
The faucets and shower handles feature rustic gold accents for another touch of luxury. I recall several hotels we have stayed in in the past, for example Bab Al Shams Desert Resort & Spa as well as Al Seef Heritage Hotel Dubai with these separate fixtures.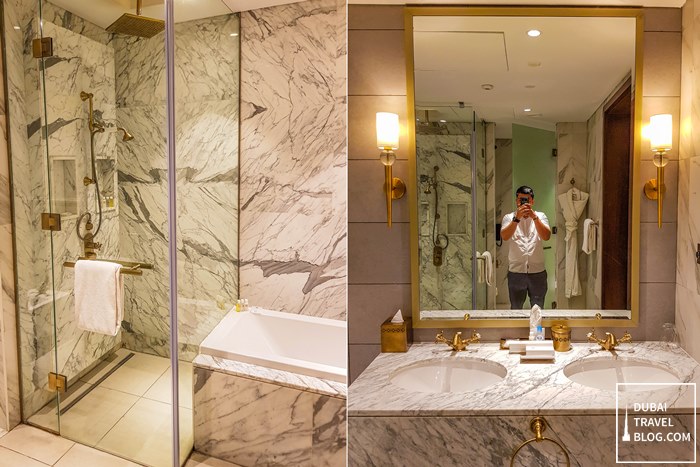 bathroom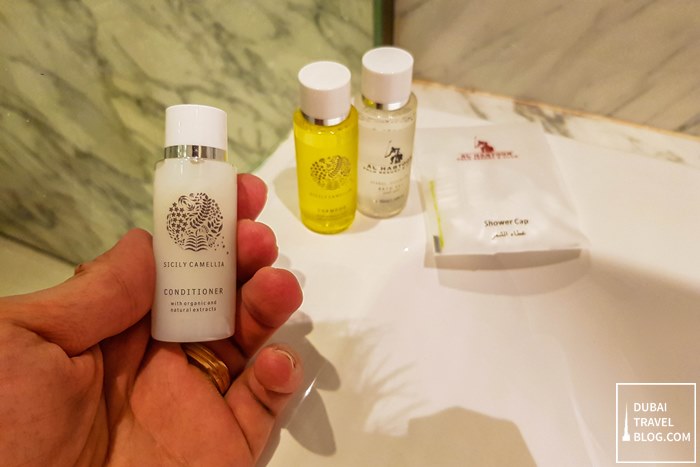 toiletries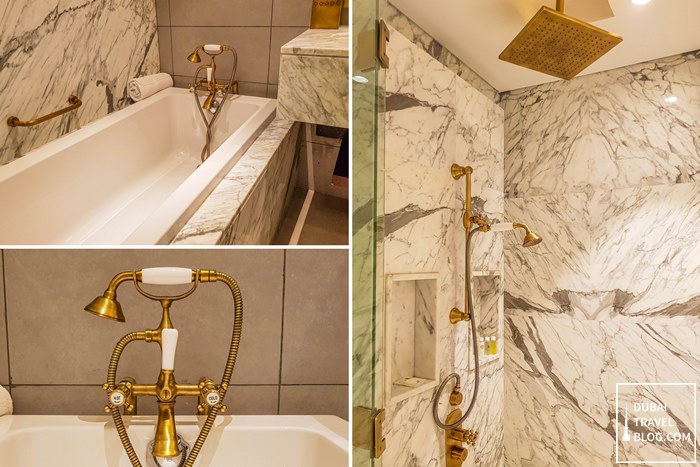 rustic plumbing and gorgeous marble tiles
View from the balcony
The balcony is quite spacious and offers a beautiful view of the manicured lawns. You can also see the background of Dubai; although visibility was unclear at the time.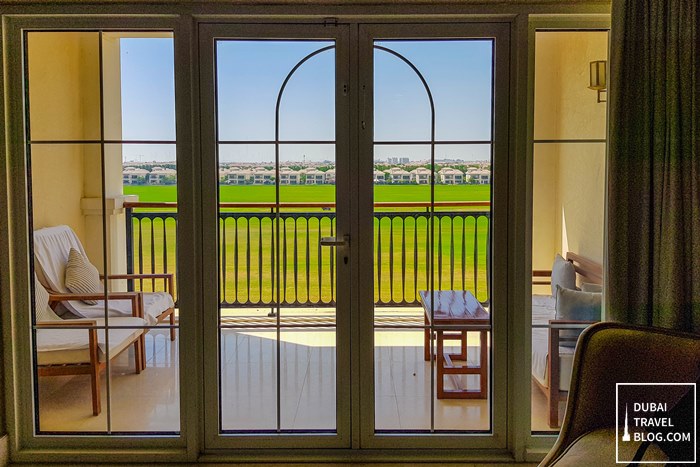 balcony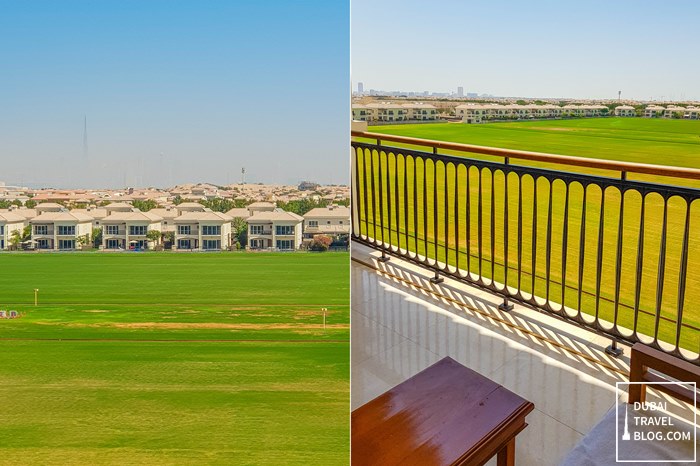 view from the balcony (do you see the fuzzy structure of the Burj Khalifa?)
Wi-Fi Internet
Internet is free. After you enter your room with your data. At the time, the speed was 8.08 Mbps, which was enough for me to browse emails and work on social media posts.
Bedroom
Restaurants
Al Habtoor Polo Resort has a variety of restaurants and bars, including:
Andalusia – an all-day restaurant located in the atrium courtyard with a mosaic fountain. This is a spacious restaurant decorated with
Grill pit – Argentinean style steak house. This is the hotel's signature gourmet restaurant, where guests can enjoy a variety of grilled dishes.
Horse and hound – Enjoy light meals and some menu items in this pub overlooking the green polo fields.
Maswar courtyard – guests can relax and enjoy a hookah in the courtyard of the resort.
Equestrian hall – lobby lounge where guests can enjoy light snacks, coffee and tea
Arena Club House – A place to relax and chat with friends over a pre-dinner drink while admiring the view of the riding school arena.
Oasis Pool Bar – a dedicated pool bar where guests swimming in the pool can enjoy a cool drink or a snack.
Lunch in the room – Room service is available 24/7 at Al Habtoor Polo Resort, so guests can enjoy their meal in the comfort of their room.
During our stay, we redeemed our Buy 1 Get 1 coupon via Entertainer Dubai 2021 app dined at Horse & Hound. We had breakfast and ate breakfast at the Andalucia restaurant. Andalusia has such a grand setting and brings us back to our trip to Fez, Morocco because of the high ceiling and fountain.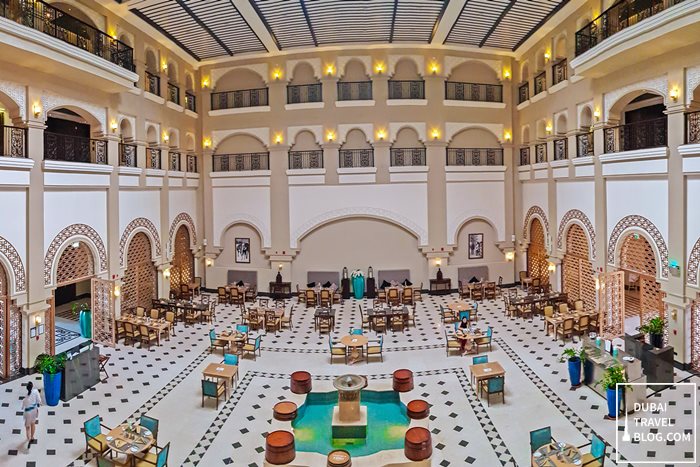 beautiful Andalusia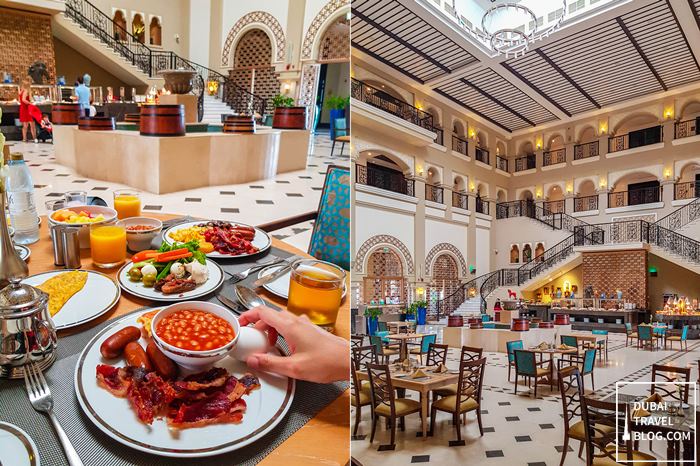 breakfast in Andalusia
bar at The Grill Pit (gourmet restaurant)
Friday brunch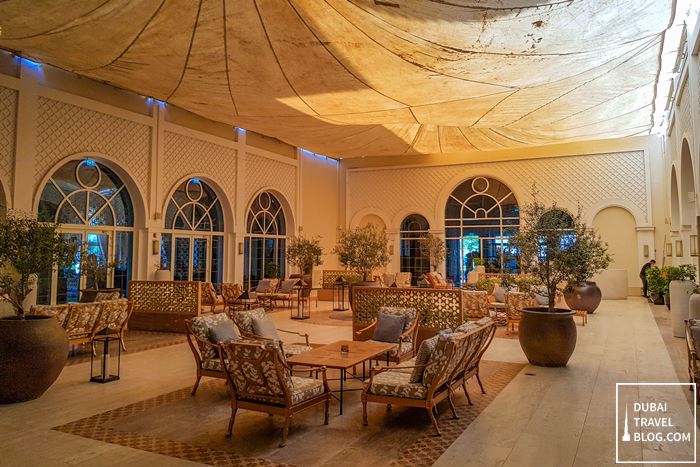 Maswar Courtyard for hookah – covered with a hipped roof for summer weather.
Swimming pool
The pool is where we spent most of our time during our stay. Even if it is not large, the pool is charming in its design. It exudes a tropical lagoon atmosphere with green tiles, plants and palms. It was such a wonderful experience relaxing in the pool.
They also have an outdoor jacuzzi overlooking the polo garden. Sun loungers are beautifully set next to the pool, where you can relax and take in the view. We made the most of our time relaxing in the area to deal with the summer heat in Dubai.
lovely pool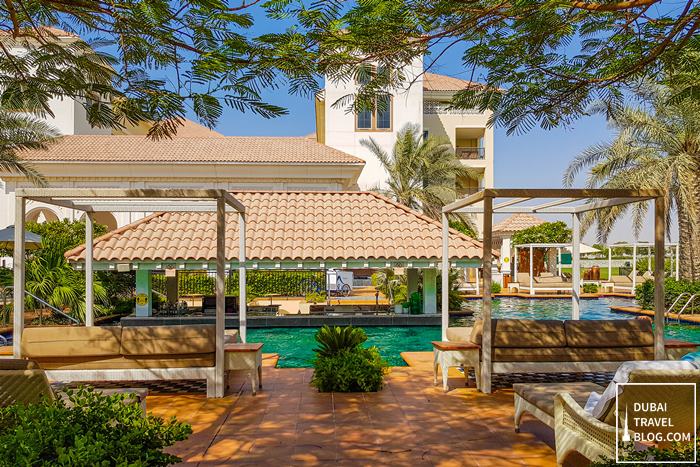 lush tropical atmosphere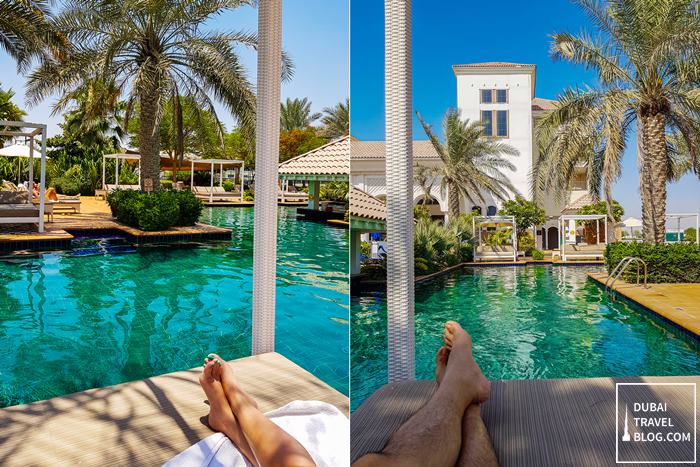 so many sun loungers to choose from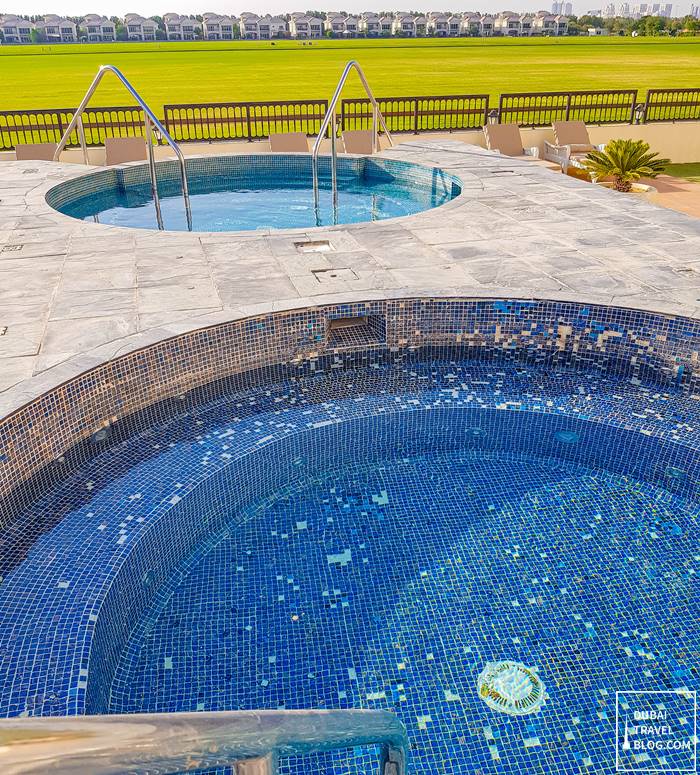 outdoor jacuzzi with garden view
Gym / Fitness Center
The fitness center is equipped with the most modern equipment for cardio and strength training. Guests looking to exercise can head to the gym to work out.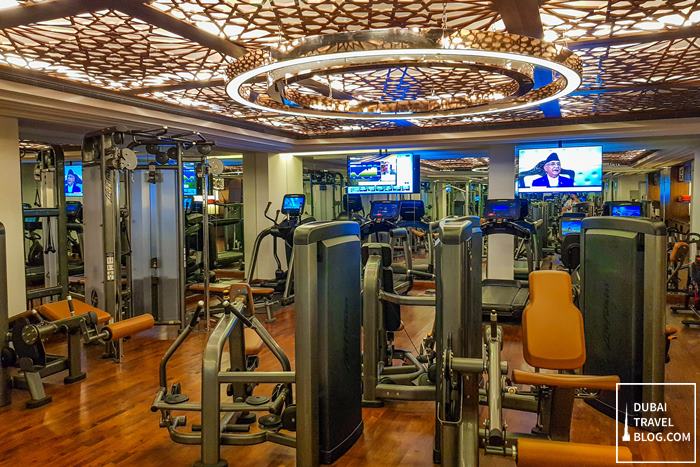 Gym Al Habtoor Polo Resort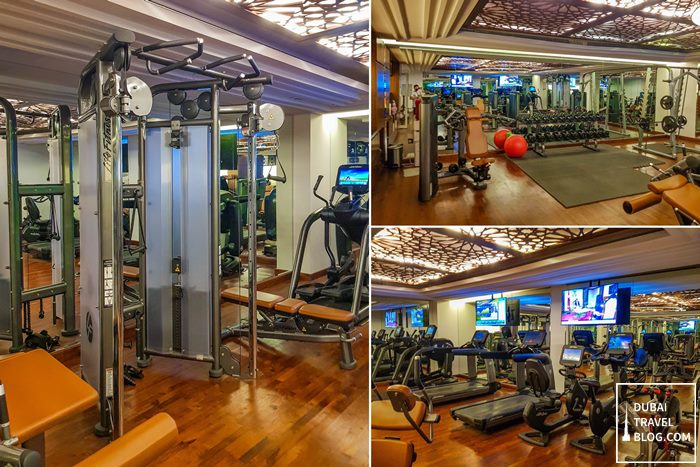 a variety of strength and fitness equipment
spa
On the spa side, Al Habtoor Polo Resort has a spa located on the ground floor. The spa has 6 luxurious treatment rooms with separate changing rooms for men and women, each with a steam room, sauna, rain shower and ice fountain.
change of lockers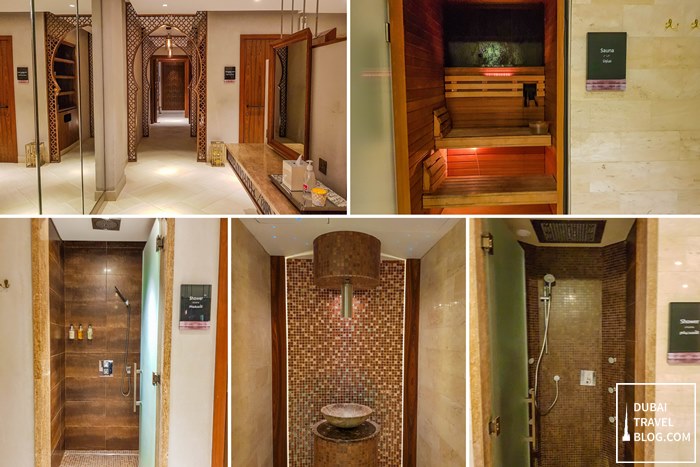 sauna, steam room, tropical shower in the spa area
Video: Al Habtoor Polo Resort Staycation
Watch this short video about our stay at Al Habtoor Polo Resort:
Brunch and accommodation
Package with brunch and accommodation from AED 699:
– Night for two
– brunch for two
– breakfast for two
– visit to the pool per day
– Late check-out until 15:00.
T&C Weekend Staycation Brunch and Stay package (valid until August 31st, excluding blackout dates – public holidays, Eid, peak dates). Applicable for stays on Thursday and Friday.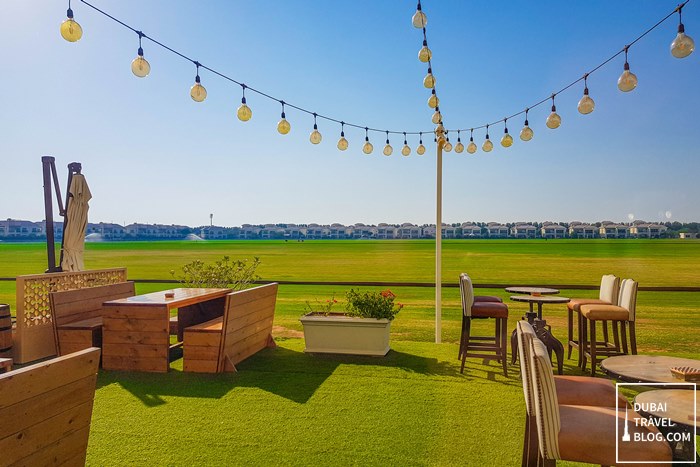 view from the Horse & Hound restaurant – outdoor seating area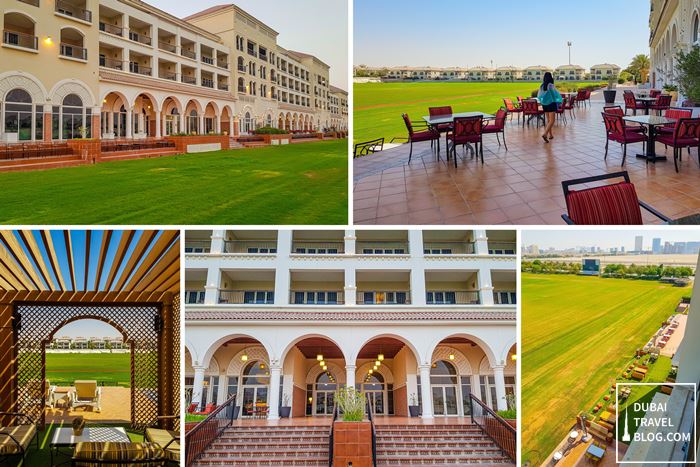 hotel territory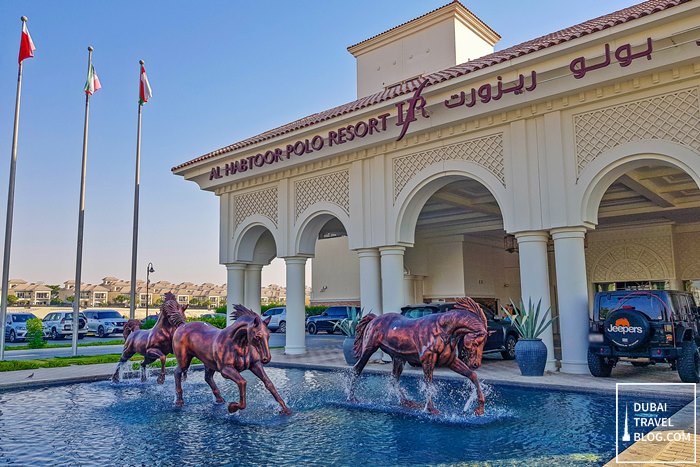 entrance
The stay at Al Habtoor Polo Resort was a pleasant getaway. The place is isolated and you will feel like you are on vacation away from the bustling city, even if you are not by car.
Contacts
Resort Al Habtoor Polo
Address: Wadi Al Safa 5, Emirates Road 611, Dubai,
Phone number: +971 4 435 4444
Web site: habtoorpoloresort.com
Instagram: @habtoorpoloresort
Facebook: @AlHabtoorPoloResort
Location on google map
Below is a guide map for the location of Al Habtoor Polo Resort. You may have to walk through the villas to reach the resort entrance. But as a tip: after you enter the gate, turn right, as this is where the hotel is located.
Disclaimer: The opinions expressed within this article are the personal opinions of the author. The facts and opinions appearing in the article do not reflect the views of Algulf.net and Algulf.net does not assume any responsibility or liability for the same.