We are thrilled to have you on our site. If you enjoy the post you have just found kindly Share it with friends.
Introducing the world's first adidas full cover swimwear collection!
Leading sportswear brand that makes swimwear accessible to everyone just announced its launch complete collection of swimwear designed for low-income people who need more shelter and protection while sailing.
Inspired by a mission to remove the barriers that prevent women from enjoying the mental and physical benefits of swimming, the brand is committed to creating world-class sportswear for athletes around the world.
See the complete collection here
A 2021 YouGov poll commissioned by adidas in the United Arab Emirates shows that only 12% of women feel comfortable in a swimsuit on a public beach or pool. Body shame and lack of privacy are two main reasons women don't feel comfortable in swimwear.
So, if you've ever felt limited in your choices …
Talking Poetess Asma Elbadawi Leads Powerful Campaign
The new Beyond the Surface campaign was filmed in Dubai and showcases how water unconditionally embraces everyone. The video was first published on June 10 and is already gaining attention with its strong theme and cinematic feel.
Asma is adidas partner, basketball player and recognizable name as a sports integration activist. She was greatly praised for petitioning and persuading the International Basketball Association to lift the ban on the wearing of the hijab and religious headwear in professional sports.
This is a project that is close to me, and I am incredibly proud to support a campaign that will remove the barriers that prevent women around the world from enjoying swimming. –Asma Elbadawi
The collection has been carefully thought out so that the fabric does not interfere with your fun in the water!
Swimmers, this has been done with your comfort in mind. Through testing across the region to find the perfect balance of fit, feature, performance and coverage; full cover swimsuit features special design factors which prevent any unnecessary movement of material into and out of the water.
Plus, it dries quickly and is made from a chlorine resistant fabric using regenerated Econyl® yarns, so yes, it's sustainable!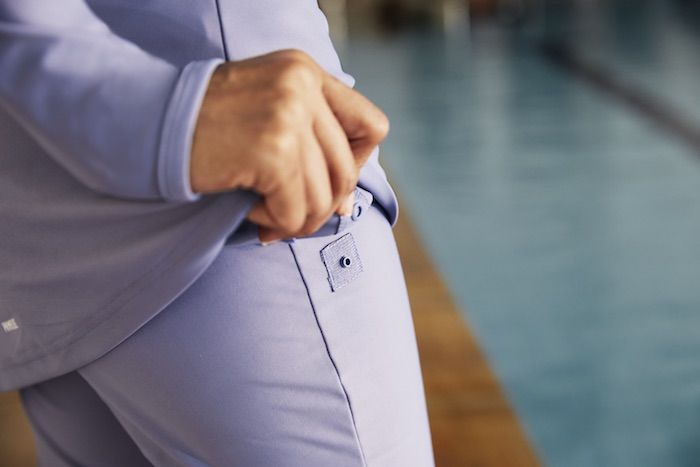 Important bits
The Full-Cover Swimwear collection is available in all sizes from 2XS to 2XL.
Available in stores from June 10, available in three colors: black, purple and burgundy.
This is also available online Right here – RUN!