We are thrilled to have you on our site. If you enjoy the post you have just found kindly Share it with friends.
American beach volleyball player Taylor Crabb is out of the Olympics after four positive COVID-19 tests, and Tri Bourne will take his place as partner of four-time Olympian Jake Gibb when the competition starts this weekend.
Crabb confirmed his withdrawal on Thursday in a statement to The Associated Press, noting that he had been vaccinated and tested negative before leaving the United States, but tested positive when he arrived in Japan.
"Fortunately, I am symptom free, but deeply disappointed that I cannot join Jake on the sand and compete as a member of Team USA," said Crabb. "I want Jake to play his fourth Olympics and I want him to take home a medal. Tri Bourne, an incredible athlete, person and close friend, will compete alongside Jake and fill my spot on Team USA."
Despite Crabb's positive result at Tokyo airport and follow-up tests confirming this, he remained hopeful that he could play through subsequent tests. Those results remained positive — including one on Thursday, just hours before the deadline for the national governing body to replace him on the Olympic roster.
The Olympic beach volleyball tournament kicks off Saturday at Shiokaze Park in Tokyo, where Gibb and Bourne will play their first game against Italy on Sunday night.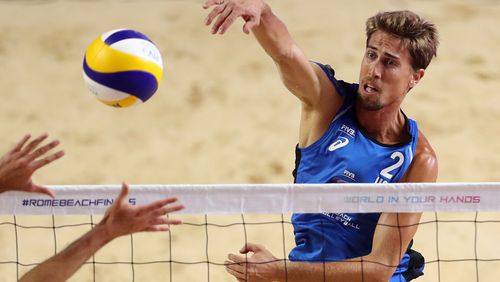 Bourne, a 32-year-old from Hawaii, was on the Southern California team that reached the 2009 NCAA finals in indoor volleyball and was the 2014 rookie of the year on the International Beach Tour. He was officially added to the U.S. roster on Thursday, shortly after Crabb texted him to make his Olympic debut.
"It is really disappointing to hear that my dear friend will not be playing at the Tokyo Games," Bourne said in a statement from USA Volleyball. "Taylor is one of the world's best and he has earned this Olympic spot. … I am deeply honored to be for him and for what he represents: his team, family, friends and community back home.
"That said, I'm ready for this moment. I believe it to my core," he said. "Jake Gibb, let's ball!"
Gibb, 45, is the oldest volleyball player – beach or indoor – in Olympic history. He played in Beijing and London with Sean Rosenthal and finished fifth each time. With Casey Patterson in Rio de Janeiro, he failed to reach the knockout round of 16.
Crabb and Gibb are the number 4 team in the FIVB world ranking, finishing 11th in the Olympic qualifying race. Bourne attempted to qualify for the Tokyo Games with Taylor's brother Trevor Crabb, but they were the No. 3 US team in Olympic qualifiers; there is a quota of two teams per country.
Disclaimer: The opinions expressed within this article are the personal opinions of the author. The facts and opinions appearing in the article do not reflect the views of Algulf.net and Algulf.net does not assume any responsibility or liability for the same.