We are thrilled to have you on our site. If you enjoy the post you have just found kindly Share it with friends.
Fans of Samsung products await the unveiling of the new devices at the "Galaxy Unpacked" event, which will be held on August 11.
Leaks revealed the specifications and designs of the "Galaxy Buds 2" wireless headphones, which will be presented during the big event.
The giant tech company will unveil its "Galaxy Z Fold 3" and "Galaxy Z Flip 3" foldable smartphones at the expected event, while the company will also launch "Galaxy Watch 4" and "Galaxy Watch 4 Active".
Ahead of the official launch, tech leaker Evan Blass also shared photos of the upcoming Galaxy Buds 2 headphones, revealing their design, color options and settings.
The newly published images confirm that the Galaxy Buds 2 will be available in four colors including: black, white, purple and green. Though the charging case also comes in white color on the outside but is the same color as the earbuds on the inside.
In terms of design, the upcoming Galaxy Buds 2 headphones are similar to the Galaxy Buds+, except that the charging case is similar to what the company introduced last year with the Galaxy Buds Live.
It is also expected that Samsung's upcoming "Galaxy Buds 2" wireless headphones will be powered by a 120 mAh battery, while the charging case will contain a 500 mAh battery.
The leaks also confirmed that the case comes with a "USB-C" charging port and a 2.5-watt charging capacity, and the headset comes with a 0.6-watt capacity.
The leaked images confirm that the "Galaxy Buds 2" headset comes with a design that mimics the "Pro" version as the headset has a silicone-designed head that is interchangeable, and the wireless headset also comes with a depth of 25 mm.
As for the Active Noise Cancellation (ANC) feature, there have been conflicting reports, with some reports stating that the headset's launch without the ANC feature is intended to bring the Galaxy Buds Pro down price.
While other reports in the same context hinted at the South Korean giant's plans to introduce wireless noise-cancelling headphones, and it also supports connecting more than one device at the same time via Bluetooth.
As for the prices of the "Galaxy Buds 2" headphones, the price of these wireless headphones is expected to be between $149 and $169.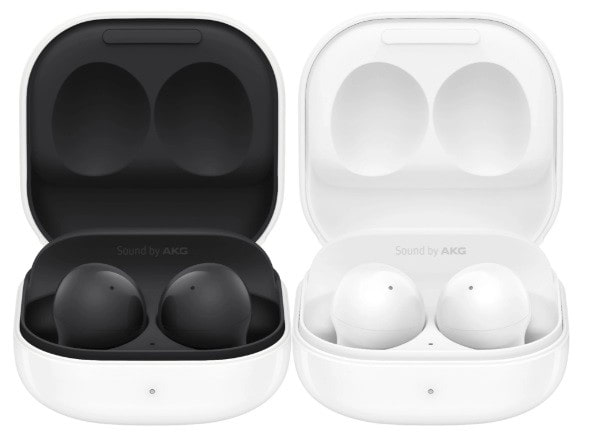 .
Disclaimer: The opinions expressed within this article are the personal opinions of the author. The facts and opinions appearing in the article do not reflect the views of Algulf.net and Algulf.net does not assume any responsibility or liability for the same.