We are thrilled to have you on our site. If you enjoy the post you have just found kindly Share it with friends.
A sand wall over 100 meters high engulfed a town on the edge of the Gobi Desert in northwestern China, in scenes reminiscent of a disaster movie.
For the latest headlines, follow our Google News channel online or via the app.
Dunhuang, a tourist attraction with a colorful history as an outpost of the Silk Road, briefly disappeared in the clouds of dust when the storm hit on Sunday.
A resident named Zhang told local media Jimu News that the sandstorm came abruptly and swept through the city within five or six minutes.
This aerial photo, taken on April 25, 2021, shows a sandstorm engulfing a village in Linze Province, Zhangye City in China's northwestern Gansu Province. (AFP)
"I couldn't see the sun," he said, adding that the city in Gansu province hadn't experienced a sandstorm like this in years.
"At first I was shrouded in the yellow dust of the sandstorm, then it turned red and finally black."
Dunhuang is home to several major tourist attractions, including the Mogao Caves, a UNESCO World Heritage Site with ancient Buddhist carvings and striking desert landforms.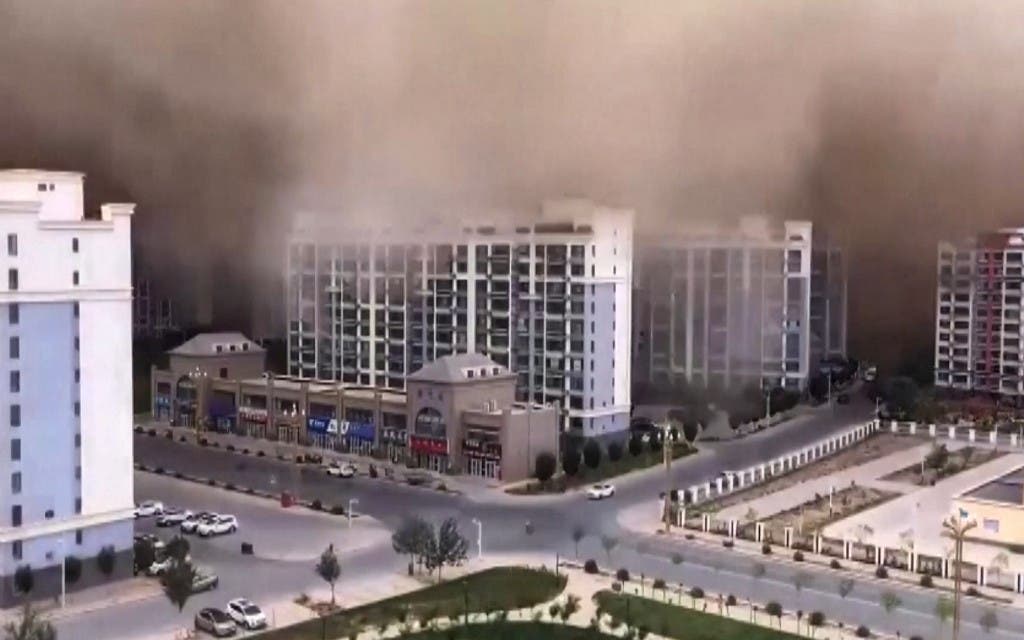 This still grab on July 27, 2021 from video obtained by Chinese state television CCTV shows a severe sandstorm engulfing buildings on July 25 in Dunhuang in northwestern China's Gansu province. The more than 100-meter-high wall of sand swallowed the city on the edge of the Gobi Desert in scenes reminiscent of a disaster movie. (AFP)
According to the state news agency China News Service, sandstorms are frequent in the region every spring, but rare in the summer.
Read more:
.
Disclaimer: The opinions expressed within this article are the personal opinions of the author. The facts and opinions appearing in the article do not reflect the views of Algulf.net and Algulf.net does not assume any responsibility or liability for the same.