French reports revealed today, Tuesday, that there are important developments in the future of Egyptian international Mostafa Mohamed, the Zamalek striker, on loan to Turkey's Galatasaray ranks, before the end of the summer transfer market..
And the name Mustafa Mohamed has been linked with the possibility of leaving Galatasaray after coming on as a substitute in most games under coach Fateh Tarim, who expressed several criticisms of the first Egyptian striker during more than one press conference..
A journalist revealed the network "20 minutes" Frenchman Clémoh Carpentet said the Bordeaux club has reached a settlement with its new striker, Mustafa Mohamed, who is expected to arrive in France and the city of "Bordaud" today, Tuesday, and that Nigerian international winger, Samuel Kalou, will be the agreement..
And Carpentet confirmed yesterday, Monday, that Galatasaray had asked Bordeaux for an amount of 5 to 6 million euros to agree to the departure of Mustafa Mohamed, who has a condition to buy it from Zamalek for a value of 4 million dollars..
According to a network journalist "RMC" The French and famous Loic Tanzi, the Mustafa Mohamed deal still resonates within the Bordeaux club, and this is what he mentioned through his official account on the social networking site 'Twitter'.".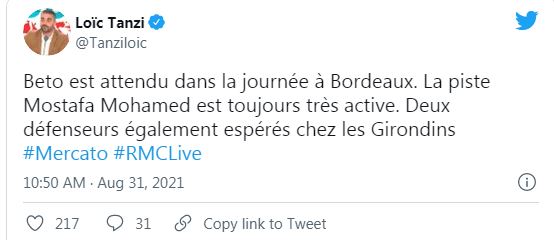 According to Tarim, Mustafa Mohamed's level has dropped significantly from the start of the current season, leading him to keep him on the bench and prefer to rely on his striker's return, Mbaye Diani..
.