Police responded to anti-lockdown protests in Hunter Valley, where the area has recorded two more cases of COVID-19.
the main points:
Police have been called to anti-lockdown protests in Cessnock and Lake Macquarie
Hunter District records two new cases of COVID
The strict lockdown has ended for the residents of the Windale Unit Complex
A small group of protesters gathered outside the council rooms at Lake Macquarie and Cessnock this morning.
The gatherings were part of what police described as "unauthorized protest activity" across NSW.
ABC understands that protesters have been targeting local, state and federal governments.
Two new cases of COVID-19
One of the two new cases announced today was in the Port Stephens area of ​​Raymond Terrace and was in the community during infection.
This case has been linked to Dubbo's exposure site.
The second case was announced today in Lake Macquarie in Windale.
Hunter New England Health said the case was isolated when it was contagious and was linked to a known exposure outside of Windale.
It is not associated with the James Street unit complex, where Residents closed for a week After a resident tested positive for the virus.
A Hunter Health spokesperson said residents in James Street have just gone back to the third round of negative tests and their strict lockdown has been lifted.
They will undergo another round of testing early next week.
There are now 73 active cases in the Hunter New England Health District and 615 close contacts are in isolation.
Test times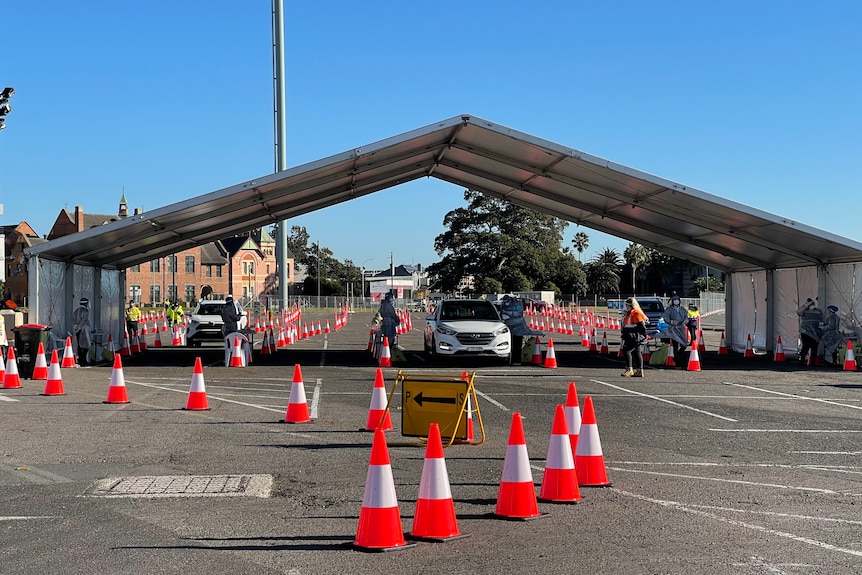 A new COVID-19 testing facility has opened at Anna Bay in Port Stephens, operated by 4CYTE Pathology.
The pop-up opens through the clinic Wednesday, September 1 at Hope Unlimited Church on Nelson Bay Road in Anna Bay.
It will be open from 7:30 a.m. to 3:30 p.m. Monday through Friday and will expand operating times upon request.
This week 4CYTE Pathology also opened a new drive-through testing clinic in Barton Oval in Belmont.
It said testing is available to all ages, including children, at all of its locations.
Download form…
.