We are thrilled to have you on our site. If you enjoy the post you have just found kindly Share it with friends.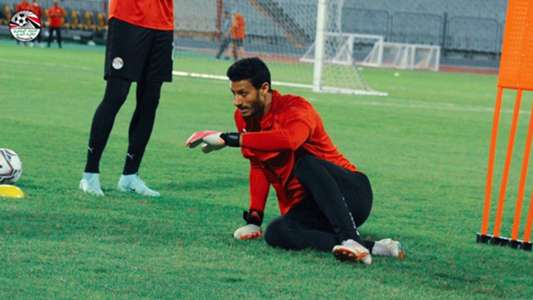 The Pharaohs goalkeeper takes X-rays today to determine the extent of his injury
There are many doubts about the possibility of Mohamed El-Shennawy; Egypt's goalkeeper faces the expected pharaohs against Libya amid deep concern among the coaching staff led by Carlos Queiroz.
The Pharaohs will play two games against Libya on October 8 and 11 as part of the third and fourth rounds of Africa's qualifying for the Qatar 2021 World Cup.
What is El-Shennawy's injury?
The Pharaoh's goalkeeper took part in the first quarter of training yesterday, Tuesday, of course, but according to what was not officially announced, he suffered a bruise, which prevented him from completing training, until today's X-rays were taken on the site of the injury.
While according to media sources Ahmed Schubert, El-Shennawy's injury is a strain in the rear muscle, which caused him to be released from training.
Is Al-Shennawi absent from Libya's face?
So far, nothing is certain, only the X-rays will determine the exact extent of the injury, and then the doctor will determine the length of his absence from the stadiums.
But in general, hamstring muscle injury requires a one to two week rest period.
If it is proven that El-Shennawy's injury is already serious, he will not participate in the two matches in Libya and Queiroz will use one of the three guards; Muhammad Bassam, Muhammad Abu Jabal or Muhammad Subhi.
What is the status of the Egyptian national team in the qualifiers?
The Egyptian national team, led by its former coach Hossam El-Badri, played two matches in the qualifiers; The first was against Angola, and they won it with a clean goal, and the second against Gabon, which ended in a 1-1 draw.
The Pharaohs are in second place in Group F with four points, while Libya leads the standings with six points, and in third place comes Gabon with one point, and finally Angola with no points.
Also read..
.
Disclaimer: The opinions expressed within this article are the personal opinions of the author. The facts and opinions appearing in the article do not reflect the views of Algulf.net and Algulf.net does not assume any responsibility or liability for the same.