The old dairy on the Retford Park property in Bowral is our newest regional art gallery. Ngununggula, meaning "to belong" in the traditional language of the Gundungurra people, opened last month.
By designing a garden to fit the new gallery, landscape architect Jane Irwin chose not to compete with Retford's historic and contemporary garden delights. And they are amazing: the much-imitated "blobbery" of neat domes leading to the front of the house; the minimalist perfection of "Green Room" with Inge King's bronze "Euphoric Angels" in a frame of clipped thuja hedges; the much-loved ripe camellias, rhododendrons and crabapples; the peonies; parterre; the emu hike.
One of the things that strikes visitors to Retford Park is how beautifully it is laid out by gardener Rick Shepherd and his team. In contrast, Irwin's design offers visitors an almost invisible landscaping. The Ngununggula Gardens do not draw inspiration from Retford's gardens, but from the rural context of the buildings and a much older, pre-colonial landscape history.
"We wanted to take advantage of the dairy's position overlooking folds and pastures with pole and rail fences and mature lip plantations and treat the site as part of the fields rather than part of the garden," she explains.
So the new gallery will be set within a meadow of wild flowers, with paths tossed through the grass and flowers to invite exploration.
Irwin's team worked with ecologist Paul Gibson-Roy to develop a specific seed mixture for the site. Gibson-Roy is a leading scientist for Greening Australia and has a passionate commitment to the restoration of grasslands with wild flowers and grassy forests, two of our most endangered plant communities.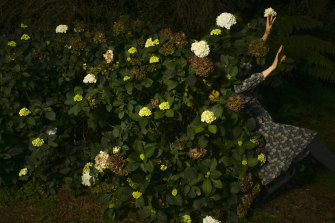 The Gibson-Roy blend developed for the Ngununggula meadow includes about 50 different species, ranging from common grasses such as kangaroo grass, wallaby grass, poa and lomandra, to native geraniums, swindlers like hardenbergia and kennedia, and rarities like the gray sunbeam, Leucochrysum albicans. This beautiful, gold-centered white paper daisy was once endemic in south-eastern Australia, but the large fields of it that once flourished have shrunk so much by changing land use that the species is now classified as endangered.
The seed for the meadow was sown by hand in September, and Irwin is curious to see what comes first and how the plantation develops – as well as how visitors react to a very different garden experience than that offered elsewhere in Retford Park.