Sheikh Mohamed bin Zayed Al Nahyan, Crown Prince of Abu Dhabi and Deputy Commander of the Armed Forces, today visited the Dubai Air Show 2021 at the conclusion of its seventeenth session.
Sheikh Mohamed bin Zayed – accompanied by Sheikh Mansour bin Zayed Al Nahyan, Deputy Prime Minister and Minister of Presidential Affairs – toured a number of participating national and foreign platforms and outdoor spaces designated for exhibition.
Sheikh Mohammed bin Zayed exchanged conversations with the participants about their most prominent innovations and the latest developments in the aviation industry.
Sheikh Mohammed bin Zayed's tour of the exhibition's outer spaces included the platforms of the Emirati "EDGE" group, which specializes in advanced defense technology, showing a range of projects developed in the field of drones and other modern industries.
Sheikh Mohammed bin Zayed also visited the Russian booth, where it showed off its latest fifth-generation "Checkmate" single-engine fighter jets, for the first time it was shown abroad.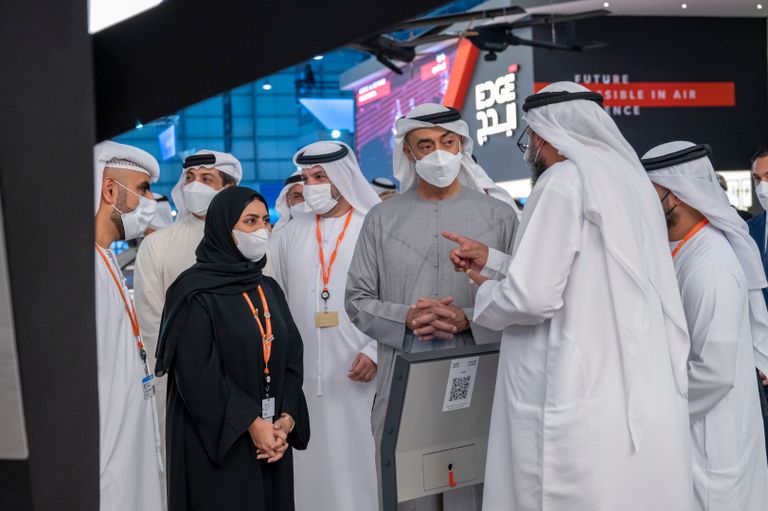 The trip included the UAE company "Calds" for the development and manufacture of defense technologies and the Brazilian company "Embraer", a multidisciplinary company in the aviation industry, which produces commercial, military and business aircraft, in addition to providing air services.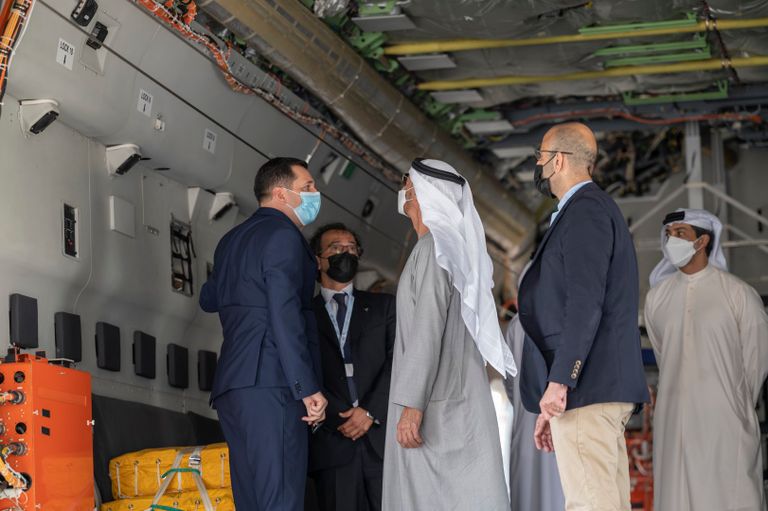 He also visited EDGE's interior pavilion and was briefed on the latest drones, in addition to the stand of the Strategic Sectors Development Fund – the investment arm of Tawazun Holding Company – and listened to an explanation given by Abdullah Nasser Al-Jabari, CEO of the Fund, about the VRT500 helicopter and the unmanned VRT300 drone, which is being developed by the fund's subsidiary, Aeroter.
Sheikh Mohamed bin Zayed was also briefed on the latest developments in the preparation of a company's factory in the Italian Republic.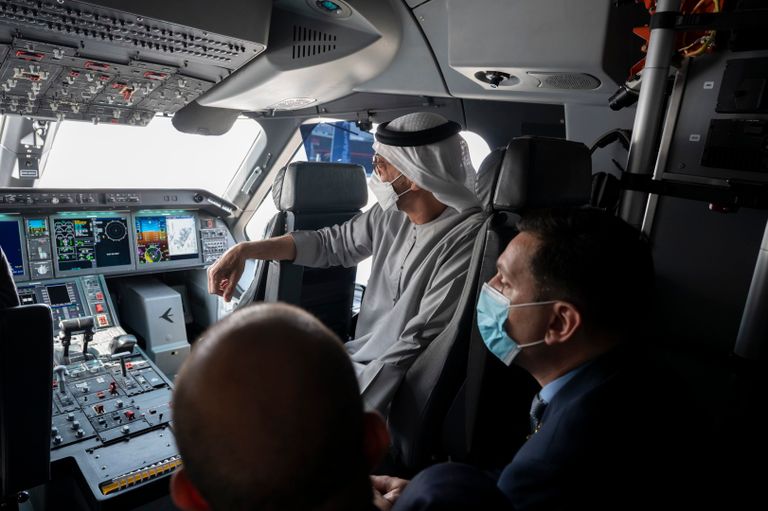 At the end of his tour of the exhibition, he expressed his gratitude and appreciation to the participants and exhibitors and all the sincere efforts that contributed to the success of organizing Dubai Airshow 2021, which continues to consolidate its position as one of the most important aviation exhibitions in the world, strengthening the UAE's position and the world's confidence in its ability to effectively manage the most prominent international events and happenings. And Eqdeer, who wants more success and expertise for the exhibition in its upcoming sessions.