Loading
"No matter how much misinformation and propaganda you put out there, Victoria will win."
Dr. Cumming has appeared regularly in protests against the government and has promoted them online.
She protested against vaccinating children with a COVID-19 plug, claiming that Andrews "came after her children".
"I want to make it very clear, Daniel, when you come after my children, you come after every Victorian," she said. "We are together as a family of freedom … Good luck, Mr Andrews."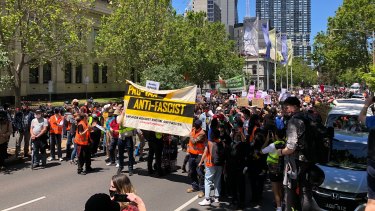 The march has so far been peaceful, with the audience playing music and singing. Protesters were scolded this week by politicians for bringing makeshift hangers and loops to their rallies.
The 'anti-fascist' rally of hundreds of people circled other parts of the city with signs including "90% + vaxxed and free" and "do not scurry, get the plug" with chant attacks "anti-vaxxers" and " Nazis ".
Victorian Greens leader Samantha Ratnam and Reason Party Leader Fiona Patten both supported the counter event.
Rally spokesman Nahui Jimenez said the protest was aimed at showing solidarity with the health measures used during the pandemic, including vaccinations.
"We're here to send a pro health message," she said. "We are also here to stand in opposition to right-wing extremist ideas."
Some anti-government protesters walked by, with "kill the bill" posters, however Aging so no clashes between the two groups.
The modrally crowd shouted "we will be back" at the end of the rally and organizers said they would continue to demonstrate against the far right in the coming weeks.
The audience was also asked to take off all overt political clothing when they left to avoid a confrontation with the anti-lockdown rally.
Both Mrs Ratnam and Mrs Patten have been in the news this week as the government works to convince crossbenchers to support their bill – a bill that will transfer public health powers from the top health officer to the prime minister and health minister.