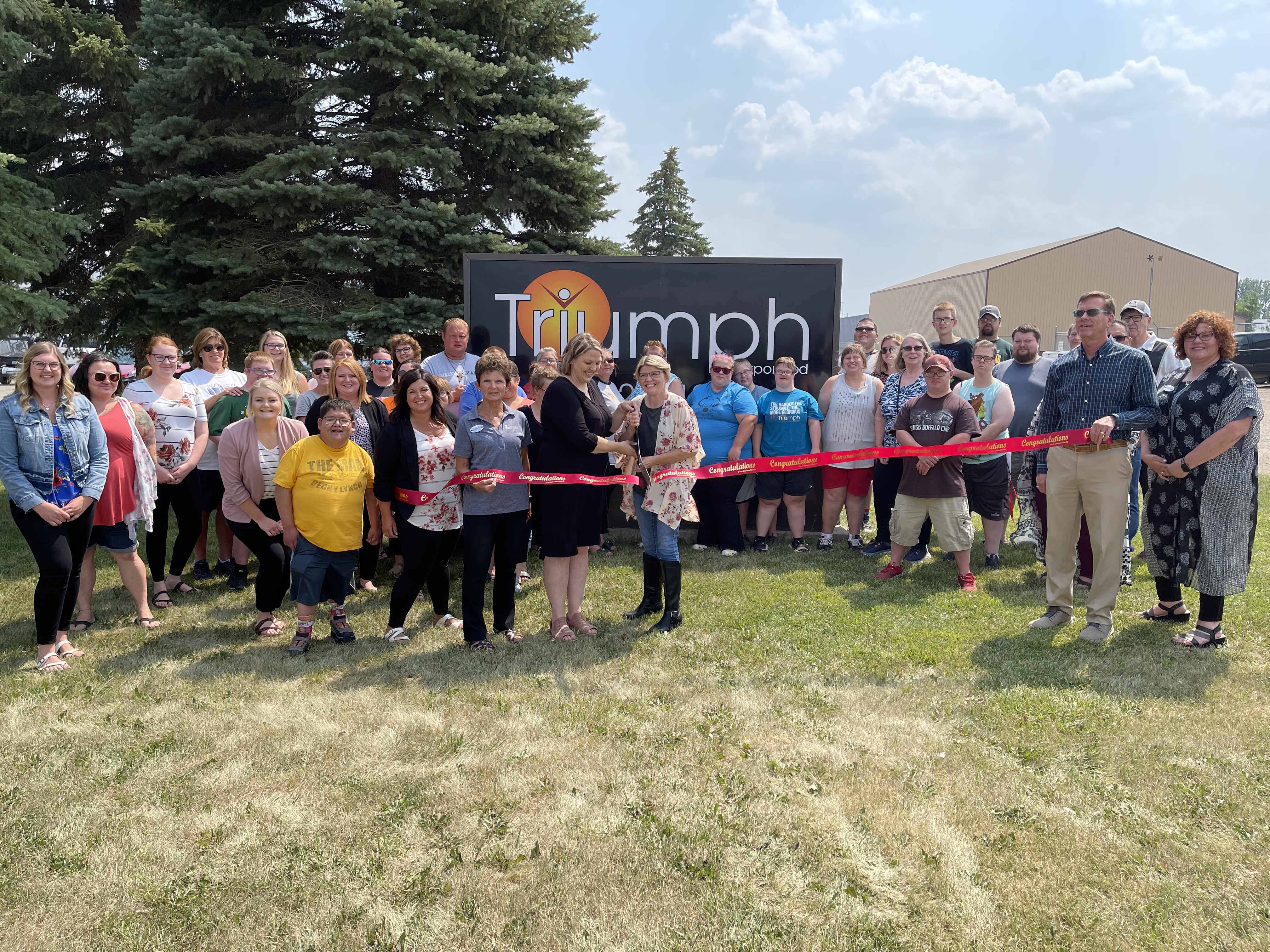 Triumph, Inc. celebrating their new location with a ribbon in 2021
BISMARCK, ND (NewsDakota.com) – Triumph, Inc. was an honorable mention for their work in supporting the employment of people with disabilities in Jamestown.
The North Dakota Department of Human Services' Department of Occupational Rehabilitation (VR) has recognized two companies for supporting an inclusive workforce by hiring, training, and inspiring people with disabilities to excel in the workforce.
The Agency and State Rehabilitation Council selected the Sanford Health of Bismarck as the recipient of the 2021 North Dakota State VR Employer of the Year Award. Roosevelt Park Zoo in Minot was recognized with the You Make a Difference Award.
Sanford Health was selected from eight nominees and was recognized for its efforts to support and inspire people with disabilities to achieve employment goals and to reach their full potential in their communities.
Members of the Bismarck VR office team that nominated Sanford Heath for this honor said the hospital's willingness to make jobs allowed for more people with disabilities to stay and remain employed in non-entry-level positions.
"At Sanford Health, we are proud to maintain a diverse, inclusive and safe work environment for all our employees," said DJ Campbell, Managing Director of Human Resources for the Bismarck Region at Sanford Health. "Our commitment to diversity and inclusion is pushing our organization to continually build on the talents and experiences of our employees, as well as the patients and communities we serve."
Other nominees who receive honorable mention include Bowman Lodge, Bowman; JCPenney, Fargo; Hugo's Family Marketplace, Grand Forks; Triumph, Inc., Jamestown; Langdon Daycare, Langdon; Maysa Arena, Minot and Daily Addiction Coffee House, Williston.
The nationwide You Make a Difference Award honors one company annually for consistently recognizing individuals' unique abilities, providing work experience opportunities for students with disabilities and active support, developing and inspiring students to achieve goals in a competitive and integrated employment setting.
Roosevelt Park Zoo in Minot was recognized for providing students with disabilities with temporary work experience in a variety of areas, including concessions, gift shop, on-call care and animal support. The zoo also provides students with natural support and positive encouragement and allows on-site job coaching to help students build confidence and skills for successful employment.
"While we appreciate the recognition from the North Dakota Department of Human Services' Department of Vocational Rehabilitation, the greater reward for Roosevelt Park Zoo and staff has been getting to know these exceptional individuals and seeing them develop into valued members of our team," said Zoo Director Jeffery Bullock.
These awards were presented to Sanford Health and Roosevelt Park Zoo during an awards ceremony at VR's annual training conference in late October in Fargo.
"It's a pleasure to honor these North Dakota companies for their continued work on our program to help people at all levels reach their full potential in the workforce," said Damian Schlinger, VR Division Director. "North Dakota is a leader in hiring people with disabilities because of the tremendous support from our business community."
The department's VR team helps people with disabilities find and maintain meaningful work or advance their careers. The department also works with employers to help connect them with qualified applicants, retain trained employees whose abilities may have changed, and find solutions to disability-related problems.
Rehabilitation counseling and consultation is available at no cost to qualified individuals and companies, non-profit organizations and government agencies.
To receive VR services, North Dakotans must have a disability that is an obstacle to employment, and they must want to work and be available for work.
Information about VR services is available online at www.nd.gov/dhs/dvr/index.html or by contacting the department at 1000 E. Divide Ave., Bismarck, ND, 58501, 701-328-8950, toll free 800 – 755-2745, 711 (TTY) or dhsvr@nd.gov.