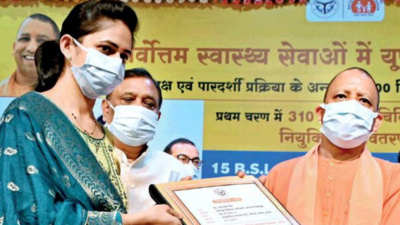 CM Yogi Adityanath gives a meeting letter to a doctor on Sunday
LUCKNOW: Prime Minister Yogi Adityanath on Sunday expressed concern over doctors "consistently losing the respect and support" they once displayed among people because of their "business-oriented mindset".
"People used to regard doctors as gods. The image has been shattered by overzealous doctors driven by purely business interests to make money," CM said, handing over letters of employment to 310 specialists who will be deployed in various districts. in the state.
He said the specialists appointed by the government will be required to address the socio-economically poor part of society in the districts where they are posted. "They should bless you and not make you feel unhappy with your work," CM said.
Yogi said the government also felt there was a shortage of specialists, especially in the implementation of the flagship PM Jan Aarogya scheme, which provided treatment costs of up to 5 lakh Rs per year and the free treatment offered in the government setup.
"Previously, no special emphasis was placed on hiring specialists. The state government made policy changes to appoint doctors to public hospitals. This was in addition to the policy, where specialists could be appointed as faculties in the newly built medical schools, "he said.
CM nonetheless praised the medical fraternity for doing its best in dealing with the coronavirus pandemic, saying that UP was able to provide better results due to the coordinated efforts at various levels.
He cited how the number of Covid-19 tests was scaled up from zero to 4 lakh a day and the number of districts with ICU beds increased from 39 to 75 in the public sector during the pandemic.
In addition, the state government managed to set up 518 oxygen plants in different districts, CM said, adding that although there was at least a possibility of a third wave of coronavirus pandemic, but people should remain vigilant.
FacebookTwitterLinkedinEmail
.