One of the annoying questions of the 21st century – and not just in Australian literature – is who gets to tell the stories. Karvan says there should be no rules.
"But if you dive into unknown territory, you have to be very aware of the responsibility you take on," she says.
"If you are not telling a story that is innate to yours, you want unique craftsmanship. You want to do a lot of research. A lot of thinking. A lot of consultation. And be sure it comes from a good place."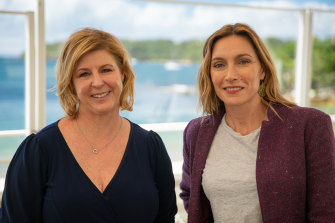 Karvan also rejects the notion that Australian literature has any defining character: "These are completely, completely individual voices that tell completely individual experiences, and that's what's so beautiful about making this series – appreciating the countless different perspectives and voices. "
Common to all great Australian fiction, however, is that it – like all good fiction – represents something true about the world and the people in it.
When Karvan was a mother of young children, she reviewed a long body of literature. She felt she needed to educate herself. About everything. Now – and after working on her first documentary – she wonders if fiction can be as truthful, if not more so, than facts.
"I think in fiction, truth can be more disguised, and you tend to absorb it in a subconscious or unconscious way," she says. "You marinate just like in it."
In non-fiction, it's more out in the open, it's more cerebral, it's more of a glaring statement. "But it's no less manipulated," she says. "The perception is that in non-fiction, the truth is just that. But I think it's sometimes more manipulated than a drama."
In the TV series Bump, where Karvan is the producer and star, many of the team's personal stories entered the scripts. "You can just throw truths in there," she says.
She rejects the idea that manuscripts and books are alike. "I can not compare them. A manuscript is just part of a long process, whereas a book is finished," she says, adding that they share crucial characteristics.
"Reading certainly speaks to my subject. Words and dialogue and psychology and storytelling … reading and writing and books have played a big role in my life – I do not think I would do what I do today without them."
Books that have created us is on ABC, Tuesday, 8:30 p.m.
Find out the next TV, streaming series and movies you can add to your must-see. Have the watch list delivered every Thursday.