Severe thunderstorms are expected to continue to hit northeastern Queensland, while NSW will also be drenched.
Emergency crews have also received dozens of calls for help across Sydney when an intense storm hit.
Widespread rainfall is forecast in an already soaked NSW today. There are also concerns about renewed floods in Gunnedah and Forbes, which have been flooded by recent floods.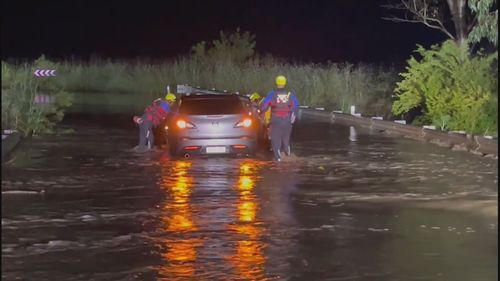 In Queensland, a deluge of heavy rainfall will hit Townsville, Georgetown, Springsure, Einasleigh and Rollingstone.
A major flood warning is still in place for the lower Macintyre River and the Weir River.
It comes after the state was hit by the heaviest November rain in decades.
The Bureau of Meteorology said 121 millimeters of rain fell in Brisbane within the past 24 hours.
The BoM stated that a La Niña has developed in the Pacific Ocean, leading to wetter than usual periods for the eastern, northern and central parts of the nation.
La Niña often brings above average rainfall, cloud cover and cooler temperatures.
The state is also likely to receive precipitation in the morning or afternoon, with temperatures reaching a cooler 17C.
Perth is set for a sunny day with temperatures of high 32C.
Adelaide is expected to have a partly cloudy day with a slight chance of rain.
Temperatures are expected to reach around 22C.
Australian metropolitan area
Heavy rain and thunderstorms that could lead to floods will hit the country's capital.
A possible thunderstorm with heavy rainfall in the area is expected.
It is expected to arrive in the afternoon or evening.
Hobart is expected to have a partly cloudy day with the possibility of showers in the afternoon or early evening.