By Morgan Couturier
Club Lyonnais de l'Immobilier et de la Construction (CLIC) was set up just before the crisis and used Mat'Electrique's facilities to show its ambitions: to become an "actor in the territory".
Like many cities, CLIC will not be built overnight. He even waited for two years to inform the real estate world of his intentions. By taking advantage of his first general public event organized in the salons of Mat'Electrique's demonstrative exhibition space, the President, Pablo de Lard therefore put forward the idea of ​​"becoming an open club driven by the desire to be a player in the area, to help the young generation join this great family".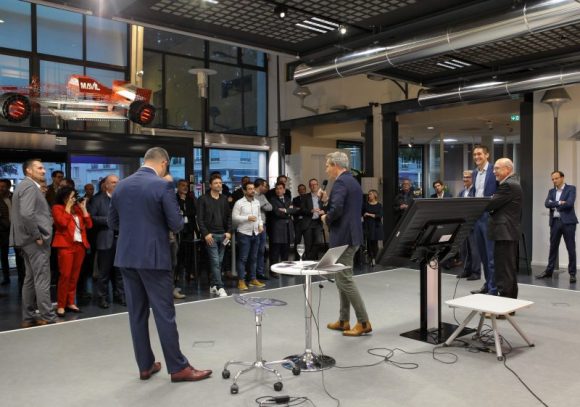 A luminous introduction therefore for this unit, which intends to organize "half a dozen events each year. A proof of this is the intervention of Ludovic Boyron, CEO of SPL Lyon Part-Dieu, invited to comment on the future of the eponymous district. The image of a "new vision" specific to CLIC.
Electric mat
Tuesday, October 5, 2021
1. Charles Terny, Regional Director of Univeo, Pablo de Lard, Sales Manager of TPF Ingénierie, Arnaud Darbonville, Commercial Director of Cubic 33 and Gilbert Melkonian, Regional Development Director of Berim
2. Julien L'Herron and Brigitte de Ceglie (SMA BTP)
3. Thibaut Le Normand (Trium), Olivier Chaix (Chaix Diag Immo) and Louis Le Normand (CBRE)
4. Maître Fabien Lefebvre, lawyer and Emmanuelle Andreani (Siz'-ix Architects)
5. Léo and Jean-Marc Betemps (Remonda)
Pablo de Lard, President of CLIC and Ludovic Boyron, General Manager of SPL Lyon Part-Dieu
7. Guillaume Robert (Bouygues Energies et Services) and Isabelle Manet (Schneider Electric)
8. Fabrice Tillet (Zedinvest) and Patrick Compas (BNP Paribas Real Estate)
9. Jean-Yves Fontaine, Chief Operating Officer of Greater Lyon, Annie Presle, Head of Mat'Electrique and Jean-Pierre Thieblemont, Regional Director of Sonepar
10. Jean Tonetti (Elcimai) and Jean-Antonio (Dias) (Equans)
11. Stephan Jalon (Dalkia), Alexandra Leroux (Euria) and Gregory Ducret (Sogelym Dixence)
12. Carole Deplechin (Ydonna) and Véronique Poitoux (GRDF)
13. Benoit Esteves (Defibim), Olivier Clochard (Assursafe) and Anthony Lambert (Defibim)
14. Clément Seille, surveyor (Cabinet Brachet) and André-Pierre Villalba (Nexity)
15. Yann Noblet, Jean-Philippe Banzé (GRDF) and Stephan Jalon (Dalkia)
16. Gilbert Melkonian, Director of Regional Development at Berim and Emmanuelle Andreani (Siz'-ix Architects)
17. Gilbert Melkonian, Director of Regional Development at Berim, Eric Effantin (Caisse d'Epargne) and Philippe Champion (Edvance)
18. Alexandra Leroux (Euria) and Charles Terny, Regional Director of Univeo
19. Pierre-Marie Fougeray, expert surveyor (Agate), Benjamin d'Houat (Citinea) and Jean-Guillaume Monin (OPAC du Rhône)
20. Amaury Arrigoni (Cubic 33) and Sébastien Grillet (Relief Courtage)
21. Emmanuel Ulrich and Eddy Saad (Axiolis)
22. Annie Presle, Mat'Electrique Manager and Emmanuelle Andreani (Siz'-ix Architects)
23. Fabien Lefebvre, partner at Lefebvre Avocat, Emmanuelle Andréani, architect and founder of SIZ-IX, David Laurand, lawyer and founding partner of CINETIC Avocats