Australians risk missing out on medical innovations and cutting-edge treatments if the country's healthcare system, which was designed before many new therapies were created, is not updated.
A two-part report from the House of Representatives' health committee found that there had been exponential growth in new drugs and treatments in recent years, including genetic cancer drugs and new drugs and vaccines against COVID-19.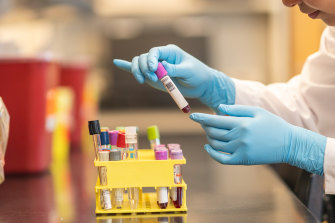 Liberal MP Trent Zimmerman, chairman of the committee, said the innovations had given hope to many, but the health care system needed radical reforms to keep up with the changes.
"The risk if we do not [adopt these recommendations] Australians are missing out on some of the new innovations that are happening in medicine, and that means either Australians are completely missing out on it, or else they have to go abroad to get treatment. And it is not a cheap task, "he said. "Most of our recommendations we think the government can get on with right away."
The report on approval processes for new drugs and new medical technologies in Australia provides 31 recommendations, including streamlining the clinical trial system and creating a new process to access personal or precision medicine and genomics.
Loading
It also recommends that a center for precision medicine and rare diseases be established within the Ministry of Health, which both Mr Zimmerman and the Committee's Vice-Chairman, Labor MP, Dr. Mike Freelander, believes will help the government seek new forms of treatment.
"I think it's a critical part of the new world," said Dr. Freelander and added that this would be particularly important to provide rapid access to new treatments for serious diseases in children, including spinal muscular atrophy, Duchenne muscular dystrophy and hemophilia.
"These [treatments] everyone is coming pretty fast and we want to make sure Australian patients can access them as timely as possible, "he said.