The newly hired oncologist and hematologist at St. Peter's Health is part of a lawsuit asking U.S. Supreme Court Justice Stephen Breyer to dissuade his former employer from enforcing a COVID-19 vaccination policy until their appeal to a lower court.
Dr. Elizabeth Bigger is among the eight people known as "Together Employees" named in the emergency application awaiting an appeal filed Tuesday in the U.S. Supreme Court against Mass General Brigham Inc., a Massachusetts-based health care provider.
Efforts to reach Bigger on Wednesday were in vain.
Together Employees, which consists of more than 200 employees, said the vaccine mandate violated their "sincere religious beliefs or put them in significant physical or mental danger." They also note that mandatory vaccine policies are "manifest violations" of the Americans with Disabilities Act and Section VII, which is part of the Civil Rights Act of 1964. Section VII prohibits employment discrimination based on race, color, religion, sex, and national origin.
"Failure to do so will result in a de facto removal of an employer's burden by exhibiting actual unnecessary difficulties, leaving only a mouthful of approach to religious and disability – friendly housing," the application states.
On November 4, the Federal Centers for Medicare and Medicaid Services issued a temporary rule requiring COVID-19 vaccinations for workers in most healthcare settings, including hospitals participating in Medicare and Medicaid programs.
The proposed rule came into force on 5 November. According to the regulation, all eligible workers must be fully vaccinated by January 4, according to a notice on the Montana Hospital Association's website.
The rule allows for exceptions for staff with recognized medical conditions or religious beliefs, observations or practices, the Montana Hospital Association writes.
Mass General Brigham Inc. set a deadline of November 5 to take a COVID-19 vaccine, the application writes on November 23. It appears that the applicants have been dismissed from the hospital. It also says one applicant resigned instead of being fired and another was vaccinated.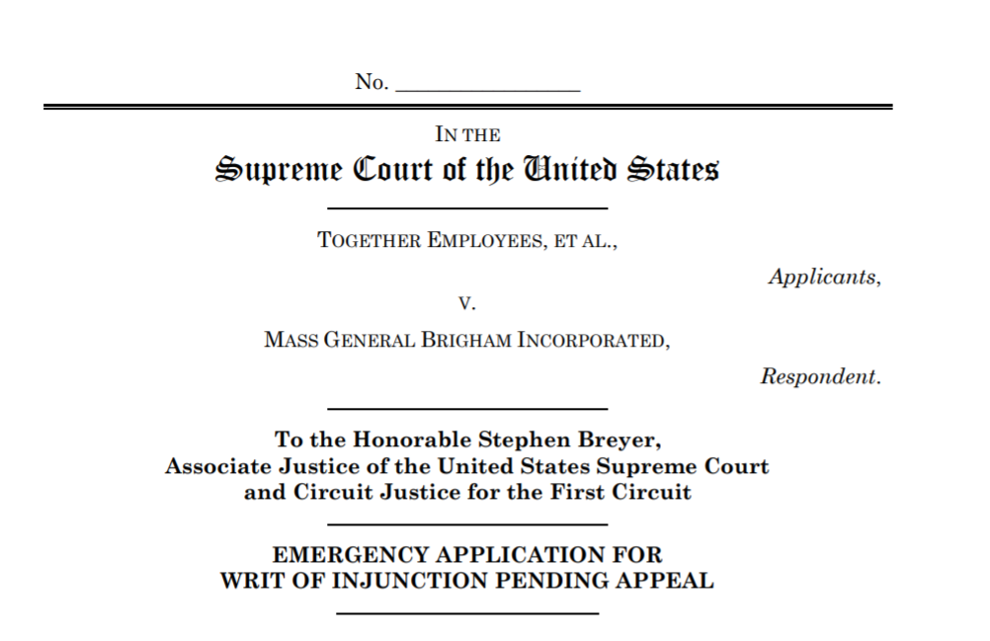 It also notes that Mass General has already accommodated hundreds of other staff demanding relief, rejecting claims that it would cause unnecessary difficulty to accommodate "additional exemptions" or "additional unvaccinated staff" because it has to " minimize the number of unvaccinated workers. "
On October 17, the Sammen employees submitted a request for a preliminary injunction to stop the claim. A district court denied the request on Oct. 20. The appeals were also unsuccessful, the application said on November 23, prompting applicants to turn to Breyer in an emergency.
According to the court document, Bigger applied for a religious residence on November 23. She has rejected any vaccine with a connection to aborted fetal tissue in the production and testing of the vaccines, provided written basis for her beliefs and cited scientific sources. They said it had been mistakenly believed by a reviewer from the hospital that she had stated that vaccines contained aborted fetal tissue. "
On Monday, St. Peter's Health that it had hired Bigger to be its new oncologist, replacing Dr. Thomas Weiner, who was released from the hospital more than a year ago and has filed a lawsuit alleging wrongful termination. That case will be heard in Helena on November 14, 2022.
Bigger has more than 15 years of experience providing oncology and hematology care and is moving to Helena from Massachusetts, where she practices at the Mass General Cancer Center, according to the press release.
St. The president of Peter's Health Medical Group, Dr. Todd Wampler, said in a press release that Bigger has elite training and an impressive background, and her practice "harmonizes strongly with evidence-based medicine and the team-centered culture" they cultivate at St. Peters.
St. Peter's Health officials were asked on Wednesday if they were aware of the lawsuit and if Bigger was required to be vaccinated.
They said the hospital does not share details about the vaccination status of individual employees under the Health Insurance Portability and Accountability Act.
"We take our responsibility seriously to keep our staff, patients and community safe," the hospital said in an email statement. "We believe the safe and effective COVID-19 vaccines are the best available tool to reduce the spread of COVID-19, minimize hospitalizations due to the virus, and save local lives."
The hospital said it plans to comply with the CMS vaccine mandate and requires its 1,700 employees to confirm that they have received at least their first dose of the COVID-19 vaccine or submit official religious or medical exemption paper by December 6th.
The hospital will also continue to follow basic precautions, including universal masking, which have been shown to be very effective in preventing COVID-19 transmission.
CNN reported that the request was filed with Breyer because he monitors the circuit from which the case arises. They reported that Breyer could respond to the request, request more briefings from the parties involved, or refer the application to the full court for further consideration.
Mass General Brigham is the state's largest private employer, and its vaccine requirements cover about 80,000 employees, CNN reported.
Attorney Roger K. Gannam represents Together Employees, and Attorney Ryan P. McLane represents Mass General Brigham Inc.
Assistant Editor Phil Drake can be contacted at 406-231-9021.
.