Top story: Victims believed to have been Iraqi Kurds
Hi, my name is Warren Murray and welcome to your Friday briefing.
Ministers have been warned to stop "playing politics with people's lives", otherwise more lives will be lost in the channel. Investigators are trying to identify the bodies of at least 27 victims, including a pregnant woman and three children, who drowned Wednesday. They are believed to be predominantly Kurds from Iraq.
Residents of temporary camps around Calais and Dunkirk told the Guardian that hundreds of people have traveled to northern France via Belarus following a crisis on the border with Poland. Many promised to pursue their plans to cross to the UK in search of a better life – and throughout Thursday, newcomers continued to land in Dover.
On Thursday night, Boris Johnson wrote to French President Emmanuel Macron calling for a joint patrol of French beaches; use of sensors and radar; maritime and airborne surveillance; better intelligence sharing to arrest and prosecute human traffickers; and a bilateral agreement to send arrivals back.
Macron defended Paris' actions, but said France was just a transit country for many migrants and that more European cooperation was needed to tackle illegal immigration: "I would … say very clearly that our security forces are mobilized today and night. " France says its forces have stopped 65% of cross-border attempts in recent months, up from 50%. Nicolas Laroye, a 20-year-old French border police officer in Dunkirk and a police union member, said: "When you see the number of my colleagues wading in shallow water to save women, children and young people – and many lives have been saved – this week's deaths are catastrophic. "
---
Red list revived over B.1.1.529 – Flights from southern Africa will be banned and six countries placed on England's red list of travelers as scientists sound the alarm over what is feared to be the worst Covid-19 variant yet identified. The B.1.1.529 variant was detected in South Africa and is under assessment by the World Health Organization. No cases have been detected in the UK. Health Secretary Sajid Javid said it had "perhaps double the number of mutations we've seen in the Delta variant. may well be less effective. " A high number of mutations does not necessarily make a variant more transferable: some experts believe that Japan's fall in cases came from mutations that drove Covid toward "natural extinction." Prof Richard Lessells, a specialist in infectious diseases at the University of KwaZulu-Natal in Durban, said that the coming days and weeks would be the key to determining the severity of the variant.
---
Fishermen threaten canal blockade – French fishermen threaten to block access to the Channel Tunnel, Calais ferry terminal and other ports today in the dispute over access to fishing waters. According to reports, they plan to take action in Saint-Malo in the morning, Calais at noon and Ouistreham in the afternoon. "Fishermen are calling for an immediate solution to the dispute with Britain over the interpretation of the Brexit agreement," Gérard Romiti, chairman of the National Sea Fisheries Committee, told French newspaper Le Figaro. Sources downplayed the potential impact, saying the truck volume was always lower on Fridays and that the blockade looked like it would be "short-lived".
---
False start – The chancellor's £ 2 billion Kickstart pandemic job scheme may not provide value for money, the National Audit Office (NAO) has said. Companies that received grants to hire young people could well have done so anyway because the economy was reopening, just as the scheme was rising, the NAO said. Its head, Gareth Davies, said the Ministry of Labor and Pensions "does not know if the jobs created are of high quality or if they would have existed without the scheme". A separate report from cross-party peers accuses the government of allowing hundreds of thousands of young people to fall into unemployment when they could learn new skills or learn. A government spokesman said: "We have announced additional funding of £ 1.6bn. This has contributed to the record high share of 16- to 18-year-olds in education or training since consistent records began."
---
Plymouth victim did not know suspect – Police investigating the murder of 18-year-old Bobbi-Anne McLeod, who disappeared from a bus stop in Devon, have confirmed that there is no known connection between her and a man detained on suspicion of murder. Detectives in Plymouth went on to interrogate a 24-year-old man. A 26-year-old man who was also arrested has been released. Police said they are not currently looking for other suspects. McLeod disappeared Saturday night, and her body was found Tuesday. Hundreds of people attended a candlelight vigil Thursday night near the bus stop where McLeod was last seen.
---
'Crushed and exhausted' – GPs in England have voted in favor of limited labor struggles to protest the government's desire to enforce face-to-face consultations. Each of the 5,144 GPs in the UK where one partner is a British Medical Association member had one vote. But only 1,798 participated – a response rate of 35% – which may indicate a reluctance to go into conflict. Dr. Farah Jameel, new chair of BMA's GP committee, called on Health Secretary Sajid Javid to do more to reduce the workload of "demoralized, broken and exhausted" GPs. "Ultimately, we do not want to have to act – we want to see action." The vote supported the withholding of information on how GPs keep appointments, to stop government "naming and exorcism" operations; and refusal to comply with the issuance of Covid-19 exemption certificates; as well as other steps.
---
Down with Black Friday – With the start of a hectic month of Christmas shopping upon us, we asked our readers to get in touch with the ways they have challenged consumerism. The answers ranged from revolutionary changes such as giving up buying new clothes to more subtle adjustments such as making sandwiches instead of buying a plastic-encapsulated meal deal.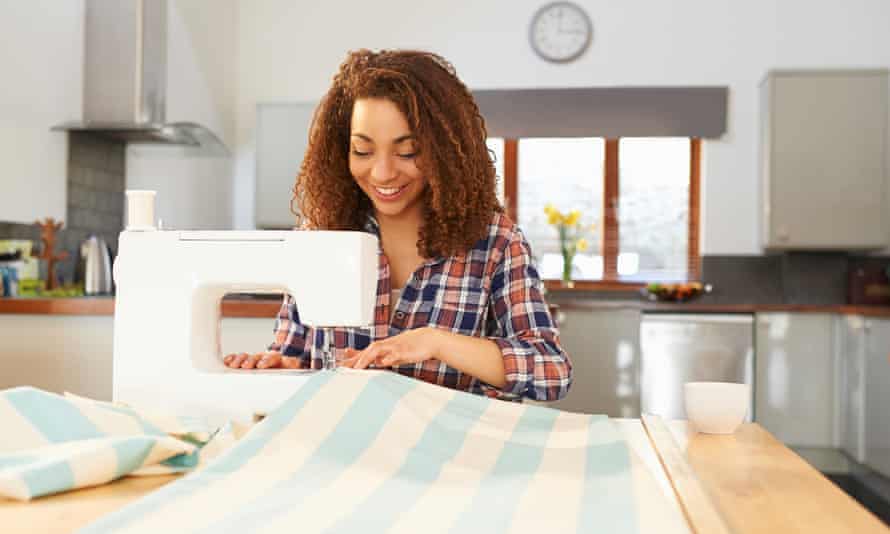 However, everyone agreed that turning one's back on a culture that constantly demands more from consumers brought economic and environmental benefits, not to mention a sense of complacency that one simply cannot buy for money.
Today in Focus podcast: Making a tragedy at sea
At least 27 people died as their boat sank in the canal in an attempt to reach Britain. Diane Taylor reports on a tragedy that was long overdue – and could have been avoided.
Lunch time read: Inflation – can our leaders get hold of it?
Financial markets fear that the world's leading central banks risk "economic disaster" by misjudging the threat of rising inflation and not shutting down the stimulus taps that have flooded the global economy with money during the pandemic. While central banks are largely holding on to the mantra that inflation is "transient" and price pressures on everything from wood to turkeys will ease in the coming months, economists, business leaders and investors are ringing the alarm bells.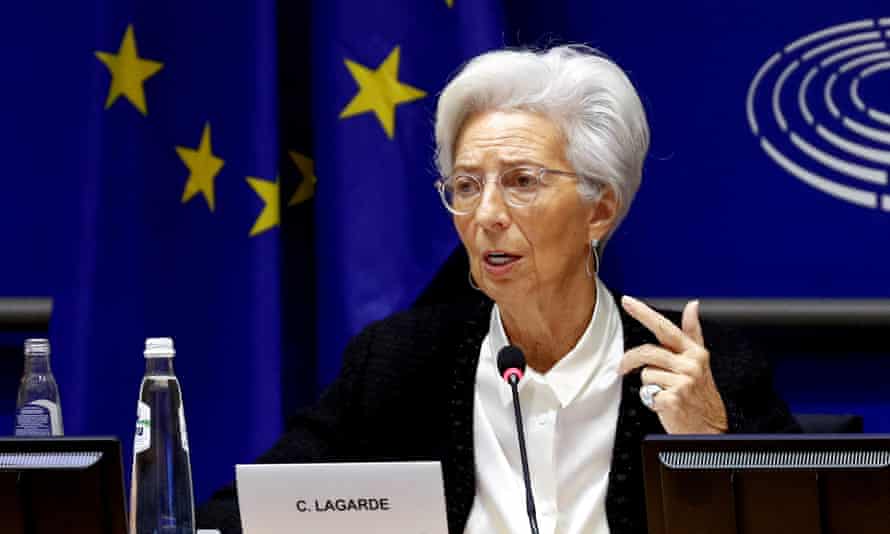 Poland has attacked inflation immediately, lowering taxes on fuel and energy and offering bonuses to hardest-hit households to create an "anti-inflation shield". New Zealand this week announced the second rate hike in as many months in an attempt to cool inflation, which hit 4.9% last month. South Korea's central bank followed. Around the world here is how large economies handle the inflation spectrum.
Sport
The Premier League has just become more interesting. Ralf Rangnick, who is to be appointed Manchester United's interim manager and then as a club consultant after Ole Gunnar Solskjær's departure, has already had a successful influence on English football. Exeter Chiefs are preparing to drop their Native American branding following calls from a majority of their supporters to make a change. In a statement, Exeter stopped confirming their future plans, but said a decision on "what the club will do next" would be forthcoming "within the next few weeks".
Pat Cummins has been named Australian Test captain and Steve Smith his deputy in a leadership shake-up following Tim Paine's controversial resignation last week. On the same day that Paine took indefinite leave from the match, Cricket Australia confirmed the week's worst kept secret by appointing Cummins' firm hand to lead a shell-shocked team through an Ashes defense now under two weeks. gone.
It would count as one of the more seismic shocks in modern chess history if Magnus Carlsen were to lose his world title over the next three weeks in Dubai. But when his Russian opponent Ian Nepomniachtchi plays the first move of their 14 matches on Friday, he will be armed with two potentially exciting advantages. When the England and Wales Cricket Board again postponed the announcement of its plan to improve the diversity of the sport, the game took a step back as Mehmooda Duke resigned from his role as chairman of Leicestershire.
Business
Equities are heading for their biggest weekly decline, while safe haven assets such as bonds and the yen have risen as the new Covid variant raises concerns about future growth and higher US interest rates. The Australian and New Zealand dollars fell to a three-month low, while Japan's Nikkei fell 1.7% in early trading and Australian equities fell 0.6%. The yen rose about 0.4% to $ 114.91 per ounce, and gold rose 0.2% to $ 1,792 per ounce. This morning, according to futures trading, the FTSE could open 100 points or so down. The pound has fallen to $ 1,330 and € 1,185 at the time of writing.
The papers
Our Guardian printed edition leads today with "Six countries on red list as Covid variant poses 'significant threat'". The tragedy in the channel also remains front-page news: "MPs asked to act to stop loss of human life". That Metro is entitled "We just want to live like you". In it Mirror these are "do-it-yourself deathboats" – the newspaper says that "gangs of greedy human traffickers" send people into flimsy rafts and have a picture of such a thing. "I know the risk. This is my only way to reach England" – it I cites an asylum seeker.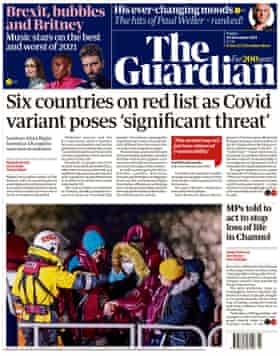 That Times has "PM wants joint patrols in France" and also says "Variant stops travel to Africa" ​​while Telegraph quotes a man's anxiety: "My wife was on the boat. I tracked the GPS… then it disappeared ". That Express predicts "UK troops to patrol French beaches". That Mail completely disagrees: "Macrons 'not' for British boots on French beaches". Cases also sound far from settled in Financial Times: "Britain and France clash over response to channel tragedy". That Solens the front page bypasses the channel history and instead covers I'm A Celebrity and the "Mutant bug ban".